More at Christian Life With Michael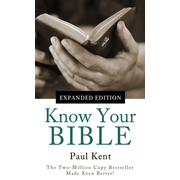 Know Your Bible-Expanded Edition: All 66 Books Books Explained and Applied - eBook
Paul Kent
Know Your Bible-Expanded Edition: All 66 Books Books Explained and Applied - eBook

Retail Price: 2.99 · Our Price: 2.39

Click here to read more/buy it!
This site Copyright ©2005 by Michael and Cathy Jones. All rights reserved. Do not copy without permission.
All Scripture quotations, unless otherwise indicated, are taken from The Holy Bible, English Standard Version. Copyright ©2001 by
Crossway Bibles
, a division of Good News Publishers. Used by permission. All rights reserved. Text provided by the
Crossway Bibles Web Service
.